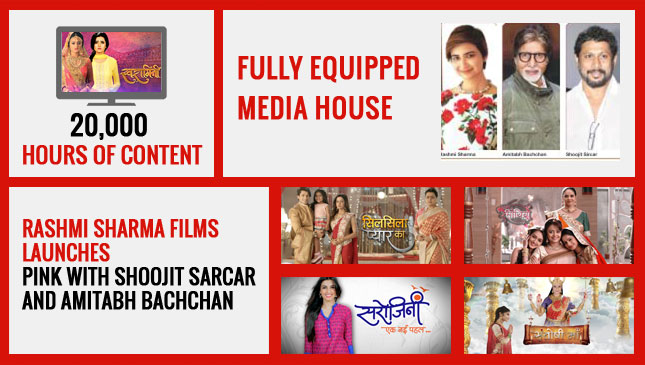 Rashmi Sharma Telefilms…. A journey of a lifetime… A dream of two visionaries Rashmi Sharma and Pawan Kumar. One who was the most sought after Creative director in television shows and the other a remarkable director. It all started in 2010 with Sath Nibhana Sathiya.
And today Rashmi Sharma Telefilms is a leading company in the Television Industry. A company, which started from a small office, today owns two huge offices in the most expensive areas of Mumbai.
The company, which has shows on all leading Indian Television Channels, from star to colors, to zee to andtv. The biggest achievement is to have two shows on one channel. And we have done that. For Star we have Saath Nibhana Saathiya which has completed about 1700 episodes on air. The new launch is Silsila Pyaar ka with big names of television.
Colors has Sasural Simar Kaa, which is the most innovative show of our times, a fantasy family drama which has completed 1500 on air episodes. The second show is Swaragini which appeals to the youth and is doing great for the company.
The best part of our shows is their longevity and their capability to hold on to the audiences. We believe in making massy shows, where people can get inspired and amused at the same time.
Our shows are constantly on the number one slots with respect to TRP's on all channels.
The production house is known for churning out great concepts. We have brought about a change in television viewing with innovative ideas. We introduce and it becomes a trend.
"Rashmi Sharma Telefilms currently is the only television production house in India with six shows on air."
In 2016, the company ventured into the silver screen with the name Rashmi Sharma Pictures and launched a film titled Pink with the biggest actor of our times Amitabh Bachchan. The movie is directed by Shoojit Sircar.
"It is imagination mixed with creativity, articulated through communication, that an idea takes visual form..."
This is our motto and we will keep expanding and making television and movies for the pure medium that is ENTERTAINMENT